- 7:00 to 8:30
- Western and Japanese food day by day.
A healthy meal with local vegetables and homemade bread!

Enjoy this special first encounter of your trip with our substantial and delicious breakfast served in our restaurant overlooking the sea with green trees and flowers all around. Feel free to spend such moments in the fresh air on the exterior decking space when the seasons allow.
Japanese Style Breakfast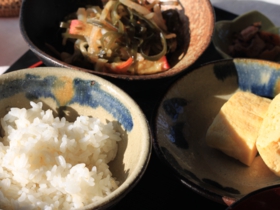 Side dishes of Okinawan specials such as island tofu, loofah dishes and seaweed that are stir-fried and boiled in liquid sauce called "Kuubuirichii", a typical breakfast of Iriomote "Obah" to be arranged accompanying with the rice.
Kikuchi rice from the native home of Nilaina's owner in Kyushu is always on the menu. Only safely grown and responsibly farmed rice meets our high quality standard, traditionally selected in such a way since the Edo era.
We are mindful that home-made food always means healthy food.

In fact, there are many fans of this Japanese breakfast among our regular guests.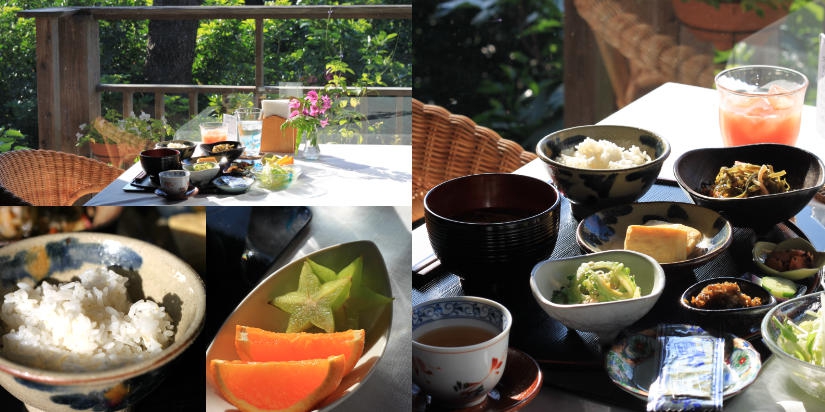 Western Style Breakfast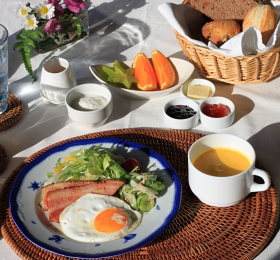 The first beginnings of your stay in our southern island resort are warm fragrant bread, delicious soup, and coffee.
Our home-made oven baked bread is made up of three main types providing the variety to be enjoyed like muffins or waffles. Soft fresh breads can set the scene for the specials of the day.
Depending on the season, jams from local fruits are also served with breakfast.
Home-made pumpkin, carrot, or potato soup is gentle to the stomach both relieving and soothing any daily fatigue.
It is served with green salad and fruit, abundant in vitamins to be enjoyed in delicatessen style.

Smiles and laughter soon ensue.