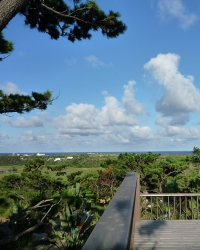 Nilina resort has an open dining room with a loft, and all guest rooms are facing to the jungle.
You can also feel great nature at "Deck of Fire", "Deck of Water", "Deck of Eearth".

You will feel "Earth" by catching the voice of birds, wind blowing through, fragrance of tropical flowers, sound of ocean heard in the distance, the stars in the heavens, and the quiet Moon.
Here is the peaceful time away from the busy city life.
Deck of Water
Sunset over the sea water... a large terrace with Jacuzzi.
At a large floor space in front of the sight of the sea, you can enjoy the sunset from the deck in every season.
From a simple Jacuzzi is in the center of the deck, feel the moment of sunset and changing color of sky.
At night you can stay comfortable while watching the stars in the heavens.

Deck of Fire
Surrounding a brick oven in the middle of the deck, you can enjoy the Dutch oven menu, or chatting together watching the fire.
Some cute guests (Firefly) may come over from the jungle...
How about the breakfast in the fresh morning sunshine?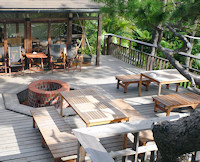 Deck of Earth
Surrounded by tropical plants near the ground.
You can feel closer to the earth, watching rare plants and animals of the jungle.
Spend the slow time in the shade, reading a book, watching butterflies and birds.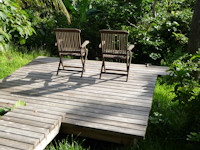 Garden
Guest rooms and decks are surrounded by tropical jungle garden.
Seasonal wild flowers and lush palm trees… a healing garden. ?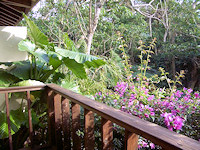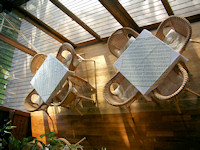 Dining Room
In an open space with wide windows, please spend a moment of relaxation, seeing green forest, ocean, mountains, mouth of Urauchi-River.
Breakfast and Dinner are served here.
The building was made by a Shrine builder who took part on construction of Shuri-Castle, with wooden and warm, beautiful and comfortable space.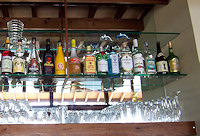 Bar
Local Drinks may make your trip more profound memories.
Please enjoy Orion Beer, Awamori, Fruit Require with Local fruits, and Cocktails are also available.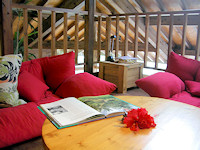 Loft
On the part of the vaulted dining room, there is a loft with various books on Iriomote, Photos and Encyclopedia of the Sea, a novels... which are collection of owner.
Wired LAN is available on the Internet with your own PC (Free).